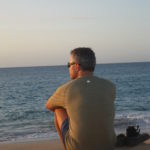 Hello,
I started my life in Vancouver, British Columbia, lived a year in London, England and then returned to live in Edmonton, Alberta. I spent a lot of time playing in nature where I often felt a deep sense of calm and belonging.
At age 13 I visited Montreal's Expo'67 where I started to use my first Brownie camera. I lived for another year in London, England and then on my return to Edmonton started my photography in earnest.
I have been involved in a personal path for 30 years. Individuation is a descent into oneself using dreams, art and creativity to come in to relationship to what is hidden, integrating these encounters, then bringing this wisdom back to the community.
I retired from a 20 year career as a chiropractor and Pilates instructor in 2012 to tend a terminally ill family member and to continue my work in depth psychology, photography, and encaustic art.
Most of my time is spent in nature, practicing yoga and Pilates, taking photographs and writing a book.
Recently I decided to return to teaching Pilates and I am currently creating workshops based in depth work and imagination for presentation in 2017. I'm slowly writing a book on my photography experiences.
I enjoy walking/hiking, reading, biking, playing a harmonica and simply being with the voice and soul of nature.
Mike
Share: