Still Point Pilates
Pilates for body and soul:
"Listen… for the moment of stillness, of inner and outer balance, when your soul is at home in your body"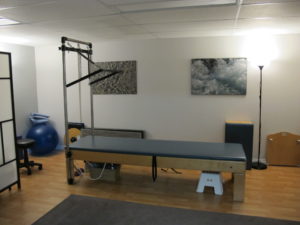 What is Pilates?
Pilates is a gentle, balanced, whole-body fitness program developed by Joseph Pilates. Born in Germany, Joe Pilates (1880 – 1967) was committed to a holistic philosophy of physical, mental, and spiritual well-being, who spent his life learning about the body and developing the complex system of exercises performed on the mat and on specialized equipment that he designed. All Pilates exercises originate in the core and the spine and involve the whole body. A strong, connected core and a flexible, aligned spine are the keys to efficient movement in our everyday lives. Group mat work classes teach a repertoire of exercises which strengthen the core and the back and facilitate good movement. Individualized work on the Pilates equipment draws on a wide range of strength-building exercises the equipment allows to support exercise for rehabilitation or to create greater challenge for a stronger client.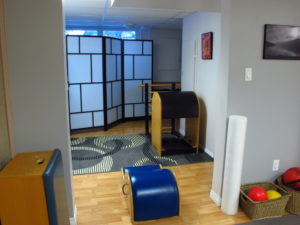 How Does a Pilates Program Work?
Pilates programs on equipment are individualized for your body, needs and goals. Your first session begins with a health and fitness history, followed by an assessment of your posture and gait, and an introduction to the basics of Pilates. Your individual program evolves from here as you build strength in your core, suppleness in your spine, and a sense of flow in your movements. Pilates exercises are carefully sequenced in degrees of complexity and challenge. Unlike aerobic fitness, the goal is to do a few repetitions of each exercise well, building strength through a body-mind connection, rather than through multiple repetitions. Pilates demands a quiet attentiveness and patience as you learn to connect in your body and explore your possibilities.
Who Can Do Pilates?
Our personal histories and stresses are included in our bodies. By learning to listen to our bodies, we can learn how to achieve inner and outer balance through movement and body-mind awareness.
The beauty of Pilates is that everyone who is interested-regardless of age, size, and fitness level-can do it. Pilates appeals to a wide range of people: individuals looking for effective approaches to conditioning and toning; athletes, dancers and sports enthusiasts who wish to fine-tune their strengths and skills; people seeking to rehabilitate from new or old injuries and pain; and those of us just feeling stiff and tight. And for those of us worried about our ability or appearance, another beauty of Pilates is that it is non-competitive and non-judgmental.
Some people prefer to work in a group setting and take mat classes, while others prefer individual training and begin with equipment. It's a matter of preference and comfort level.
Mike Daniel, DC
Mike Daniel comes to Pilates from traditional and non-traditional healing practices. He worked as a chiropractor for 10 years, while also studying acupuncture, rehabilitation techniques for chronic injuries, Pilates and hatha yoga. A shift to Pilates full-time reflected his interest in the power of self-healing through active movement. He has owned and run Still Point Pilates Studio for 13 years..
Mike is a certified Pilates instructor trained in mat work and in all Pilates equipment through the Core Dynamics Pilates Studio in Santa Fe, New Mexico and The Body Works Pilates Studio in Edmonton, Alberta.
Still Point Pilates
One of the best ways to learn Pilates is through the guidance of a qualified instructor in a small studio setting. Still Point Pilates offers a quiet, nurturing space, away from the pressures of everyday life. Here you were invited to move into your body, honour your spirit and discover transformative strength in your own time.
For more information email Mike at : sppilatesdaniel@gmail.com
Share: